Quizzes in Canvas are assignments that can be used to assess student understanding and comprehension of course material. The quiz tool is used to create and administer online quizzes and surveys. Quizzes can also be used to conduct and moderate exams and assessments, both graded and ungraded.
Canvas is currently in a transition from "Classic Quizzes" and "New Quizzes." Ultimately, all schools will move to New Quizzes in the coming years; however, New Quizzes is still in development, so it is temporarily missing some key features that some of our faculty need.
With this in mind, we encourage you to review the documentation below and see if New Quizzes meets your needs right now. If you need features that are only supported in Classic quizzes, then build in Classic Quizzes for now. In the future, there will be robust tools to migrate classic quizzes to new quizzes.
Important
Canvas has four different types of quizzes:
A graded quiz is the most common quiz and rewards students points based on their quiz responses.
A practice quiz is a learning tool to see how well users understand course material without providing a grade.
A graded survey rewards students with points for completing a survey but grading is not based on right or wrong answers.
An ungraded survey obtains opinions or other information without providing a grade.
How does Canvas differ from Blackboard?
Canvas does not have these question types: Jumbled Sentence, Quiz Bowl, Hot Spot and Ordering.
In Classic Quizzes, individual question responses cannot be randomized at a question level.  This setting is only at the quiz level and applies to all questions.  Exams with questions including responses like "all of the above" or "none of the above" should not have the "SHUFFLE ANSWERS" option selected in the quiz settings.
All quizzes will display the score to students are part of the feedback
Once a quiz is published, you cannot change a question and re-grade.
Canvas has a different question type called Multiple dropdowns.
Canvas has the ability to assign a grade to students who completed a survey.
It is easy in Canvas to adjust the quiz availability for different sections in a combined course.
How to use – Canvas instructions
Guides
New Quizzes Updates
2023 Feature Updates to New Quizzes
Addition to Choose a Quiz Engine Pop-up Text Update – The Classic Quiz description text is updated in the Choose a Quiz Engine modal. Additionally, the New Quizzes option is listed first.

This update clarifies the use for Classic Quizzes and encourages users to choose New Quizzes as their quiz engine. When creating a quiz, the Choose a Quiz Engine modal has New Quizzes as the first choice in the list. If you want to use Classic Quizzes, pick that option instead.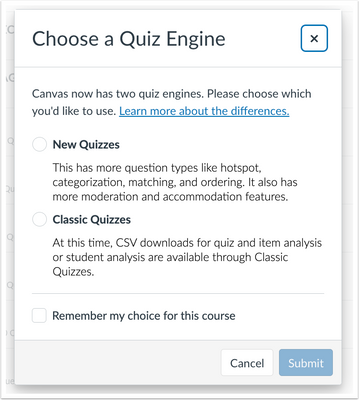 Build on Last Attempt – Instructors can allow students to build on their last attempt of a quiz by reattempting incorrectly answered questions. In New Quiz Settings, instructors select Allow multiple attempts and then select the Enable build on last attempt checkbox.

This change allows instructors to collect data on improved learning.
When the build on last attempt feature is enabled, students can only view questions marked with incorrect answers, all other questions are hidden.
Students who score 100% will not have the re-attempt option. They can re-attempt manually graded questions until the answer is correct in the SpeedGrader or they run out of attempts.

Grade by Question in SpeedGrader and Item Banks Sharing Updates

SpeedGrader supports grading one question at a time and the Question Navigation bar for New Quizzes. New Quizzes share the Item Bank to the Current Course Checkbox.

Improved Item Analysis Report – This update improves instructor workflow by providing Item Analysis reports in a timely manner and simplifies the user interface.

In New Quiz Reports, click the Generate Report link. Quiz and Item Analysis reports are generated on demand and display the updated Quiz Summary.
The collapsed Item Analysis is updated with the question type, statistics, and format changes.
After a report is generated, the report card displays data from the last run report.
To view report details, click the View Report link. To update the data and run a new report, click the Generate Report link.

Previously it could take up to 48 hours for data to display in the New Quizzes reports.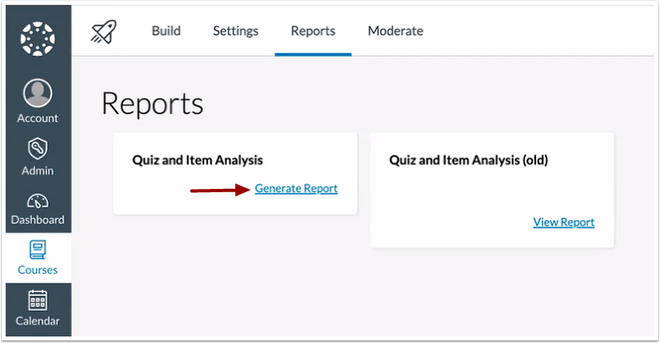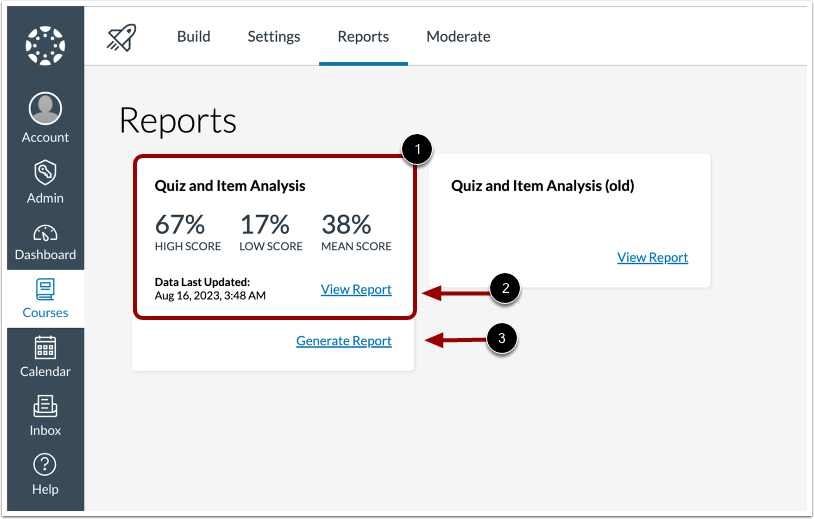 Rich Content Editor in New Quizzes – This provides instructors the ability to utilize the accessibility checker on questions and instructions, add media with third-party apps in New Quizzes, and change between HTML editor and classic view for advanced users. Also, users can access a math editor.
Rich Content Editor Supports Third-Party Apps in New Quizzes – In New Quizzes, the Rich Content Editor supports adding content using third-party apps. This update allows users to easily include third-party tools to provide content in New Quizzes.
Share Item Bank with Course Checkbox Update – The Share Item Bank with Course checkbox is added in the Item Bank page when creating a new Item Bank, along with existing Item Banks. Additionally, instructors can view when an Item Bank is already shared with a course.

This update allows instructors to know if an Item Bank is shared with the current course, as well as share Item Banks with the course from the Item Banks page or tray.
A user with edit permissions can select or deselect the checkbox to share the Item Bank with a course. When a user has view permissions only, the share checkbox is grayed out and they are unable to make any changes.
Additionally, if an Item bank is shared with both a course and a specific user, when the item bank is unshared with the course and continues to be shared with the user, it no longer displays in the Banks Shared to Course filter, and can be accessed from the All Banks filter.
Zero-Point New Quiz in Gradebook Checkbox – Instructors can choose to not display a column in the gradebook or student page when creating a zero-point practice New Quiz. This change allows instructors to remove unwanted content in the gradebook and prevent confusion for students related to zero-point practice quizzes.
Classic and New Quizzes Instructional Videos
Classic Quizzes
304 – Quizzes Overview from Instructure Canvas Community Video Guides
Creating and Deploying New Quizzes
323 – New Quizzes Overview (Instructors) from Instructure Canvas Community Video Guides
Best Practices and Accessibility
Canvas enables instructors to apply accommodations for students.